31 July 2013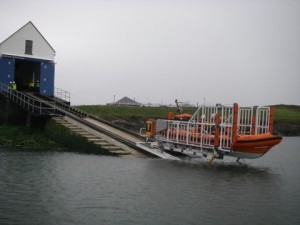 Baltimore RNLI lifeboats were involved in two separate incidents to investigate reported sightings of flares.
On Saturday 27 July at 8:17pm, a red flare was reported in the area of Inisbeg. The inshore lifeboat was carriage launched from the slip in it's first service from the redeveloped lifeboat station at Bullpoint in Baltimore. The interval between the pagers going off and launch of the lifeboat was just 7 minutes. Helm Micheal Cottrell and his crew carried out a search as far upriver as the rowing club, making inquiries with vessels on the river. The search was stood down and the lifeboat returned to the station at 9:10pm.
Last night 30 July an alarm was raised at 10:54pm when a member of the public reported sighting a red flare southwest of Tragumna Beach. The all weather lifeboat proceeded to Tragumna Bay where a local fishing boat had already begun a search. Coxswain Kieran Cotter spoke by mobile phone with the observer of the flare. The lifeboat searched west along the shoreline from Tragumna beach in response to the directions of the oberserver. By midnight nothing had been found and the search was stood down as all indications were that this was most likely a firework or chinese lantern launched from the headland southwest of Tragumna.
Baltimore RNLI Lifeboat Operations Manager Tom Bushe commented that he was 'delighted with how the new carriage launching system worked and thanked the volunteer crew and shore crew for all their hard work in learning new procedures. Furthermore he advised that if people are setting off fireworks or releasing chinese lanterns in coastal areas to notify the Coast Guard of their intent'.
Volunteer RNLI crew on board the all weather lifeboat were Coxswain Kieran Cotter, Mechanic Cathal Cottrell, Jerry Smith, Sean McCarthy, Tadhg Collins, Shane Mc Sweeney and Eoin Ryan.
Volunteer crew on board the inshore lifeboat were Helm Micheal Cottrell, Tadhg Collins Connor Dempsey. Shorecrew: Jerry Smith, Rianne Smith and Seamus O'Driscoll.