RNLI Baltimore Lifeboat Station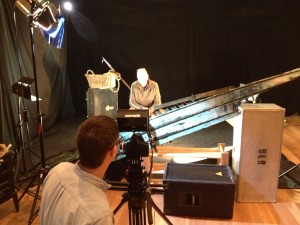 After many weeks of planning we are finally ready to roll cameras. The community hall has been transformed into a stage set with drapes and lights. Props have been collected and costumes altered. Tomorrow we begin shooting the film that will relate the story of the SS Alondra rescue through a series of vignettes.
16 August 2013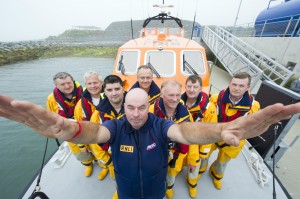 Well known open water swimmer Steve Redmond from Ballydehob  is about to embark on a record breaking challenge to raise funds and awareness for the RNLI.  Steve has already made history for being the first man ever to complete the gruelling Seven Oceans Swim and is now taking on his biggest challenge to date in swimming from Ireland to Wales.
Steve is a former rugby player and triathlete who has become well known for his long distance open water swims.  He was the first person to swim around the Fastnet Rock off the Cork coast. Now at the age of 48 he wants to complete one more big challenge and swim the 80 kilometres from Ireland to Wales.  He plans to depart from Rosslare in County Wexford in the early hours on Friday 23 August, weather permitting and swim non-stop to Wales, arriving in St. David's approximately 35 hours later.
These locations are also home to lifeboat stations in the RNLI, a charity that is close to Steve's heart.  Living in West Cork and training in the sea near Baltimore lifeboat station, Steve is very familiar with the work of the charity and three of his support team are volunteer lifeboat crew with Baltimore RNLI.
Speaking on the challenge Steve said, "Sadly there have been a number of tragedies off our coast in the last few months and it has brought home to me that while the sea is beautiful it can also be dangerous.  I want to do something for the people who volunteer to rescue those in trouble at sea or who have to bring loved ones home when they have lost their lives out there.  I am very familiar with the work of search and rescue agencies and in particular the RNLI and it would be great to raise funds and awareness through this swim."
Steve is under no illusions how challenging the swim will be for him.  It will be much further than he has ever swam before and will take a huge amount of strength and mental endurance.  By his side for the challenge will be his support team who will keep him under constant surveillance.  Steve is not allowed touch the boat or another person while he is swimming and will need to be independently observed by a member of the Irish Long Distance Swimming Association to verify the challenge. Medical personnel will also be close at hand should Steve get into difficulty and be unable to complete the swim.
He is currently swimming up to 90 kilometres a week in training and is now keen to undertake the challenge.  He added, "This time last year I vowed never to put my body through another endurance swim.  A year later and I am now looking forward to this next challenge, which I have always wanted to complete.  The fact that this swim has never been done by one person alone makes it more enticing to me and if the weather and tides allow I am confident that I can make it.  I am also looking forward to raising some funds for the RNLI who battle the elements day in day out to save lives at sea."
Steve Redmond will depart Rosslare in the early hours of Friday 23 August, weather permitting.  To donate to Steve's swim in aid of the RNLI please go to: www.mycharity.ie/event/irelandtowales2013/ 
For updates on his journey please log on to:
facebook.com/SteveRedmondSwims
or follow Steve's twitter account: @iswimcoldwater
RNLI lifeboats in Ireland brought over 1,000 people to safety last year. Irish lifeboats from the Royal National Lifeboat Institution (RNLI) launched 939 times in 2012 bringing 1,041 people to safety. The figures are being released by the charity following returns of service from all 44 lifeboat stations in Ireland.  [...]
Abu Dhabi Ocean Racing, skippered by Ian Walker from the UK, rounding the Fastnet Rock on leg 9 of the Volvo Ocean Race 2011-12, from Lorient, France to Galway, Ireland. (Credit: IAN ROMAN/Volvo Ocean Race) Volvo Ocean Race
The all weather lifeboat Hilda Jarrett has been tasked to go to Glandore to assist in continued search efforts for 5 missing off the Trawler Tit Bon Homme. The lifeboat will launch at 13:00 today.
Both lifeboats were out again today to join in the search & recovery operation at Glandore. The all weather lifeboat arrived on scene at 08:20 and initially did a circuit of Adams Island. Then crossing over to Goat Head commenced a search of the East side of the Harbour and [...]
The search in Glandore resumes this morning at 8am. Lifeboats from Baltimore wiill join other vessels under the direction of the LE Niamh which assumed on scene command at 15:30 yesterday when she arrived in the harbour.
As darkness approaches the all-weather lifeboat Hilda Jarrett and inshore lifeboat Bessie have been stood down from the search. The lifeboats are returning to base in Baltimore Harbour. Onboard the Hilda Jarrett were Coxswain Kieran Cotter, Jerry Smith, Colin Whooley, Brian McSweeney, Eoin Ryan, Don O'Donovan and Sean McCarthy, all [...]