RNLI Baltimore Lifeboat Station

The Alan Massey is a Tamar class lifeboat introduced by the RNLI in 2005. Knowing the technical specifications and key features will surely impress – not to mention being worth bonus points at next table quiz ! Category All weather Introduced 2005 Displacement 32 Tonnes Length 16.3 m Beam/width 5.3m [...]
Baltimore crew get new hi-tech lifeboat By Eoin English THE heroic lifeboat crew involved in some of the state's most dramatic rescues are training in England this week to prepare for the arrival of a state-of-the-art new vessel. The RNLI confirmed last night that Baltimore lifeboat station in West Cork [...]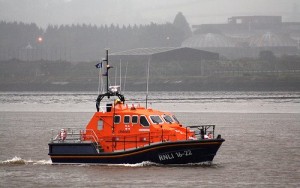 Excitement is mounting at the imminent arrival of the new Tamar class all weather lifeboat named Alan Massey in Baltimore next month. Crews are participating in training at Poole and work is commencing on renovations at the station in Bull Point. Wednesday February 15th is the scheduled arrival date and we hope there will be a big welcome from lifeboat supporters. She is pictured here whilst undergoing boatyard trials in Plymouth. Checkout the specifications on the ALB Alan Massey page
Date: 07/12/2011 An alarm was raised today at 12:28 pm when a child required medical evacuation from Cape Clear Island. The all weather lifeboat Hilda Jarrett was launched immediately and brought the child to Baltimore pier.
Baltimore Lifeboat has been no stranger to high profile rescues over its many years of service, but in the eyes of the world, Summer 2011 eclipsed all previous rescues. As so often before the exploits of Baltimore Lifeboat were inexorably linked with the Fastnet Rock when in an astonishing turn [...]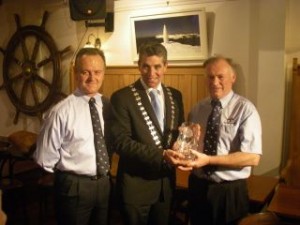 Mayor Tim Lombard commended Baltimore Lifeboat on its long history of service and paid tribute to the courage of its crews. Coxswain Kieran Cotter highlighted the importance of the support given by the management committee and fundraising committee who are so essential to keeping the station going. He then narrated an account of the August 2011 Rambler rescue in his inimitable style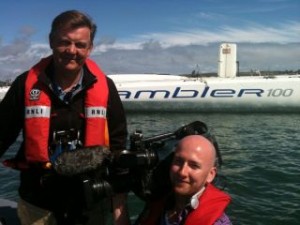 Watch out for Mayday at the Fastnet Rock on RTE 1 next Tuesday 11th October at 10:15. It is the documentary by Donal Byrne and Bryan Dobson about the rescue of the crew of the Rambler 100, which capsized during the Fastnet race last August. The Irish Times have made it their 'choice' to watch – so don't just take my word for it!
Kieran Cotter and Jerry Smith of Baltimore are the Afloat.ie/Irish Independent "Sailors of the Month" for August in recognition of the key roles they played in the superb rescue of all 21 of he crew of the capsized super-maxi Rambler 100in the record-breaking Rolex Fastnet Race.When Rambler's canting keel snapped [...]