RNLI Baltimore Lifeboat Station

Archives for
SheelaghBroderick
(126)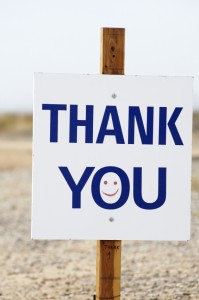 Sending a big thank you to everyone who came to support our Open Day yesterday.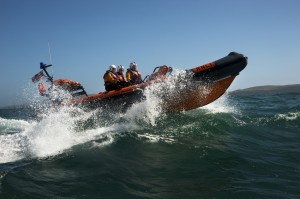 RNLI volunteer lifeboat crews in Ireland were kept busy this summer, with the charity's lifeboats launching 571 times during the months of June, July and August.  The figure represents an increase of 43 per cent on the previous summer.
While many people were enjoying the prolonged sunshine and the hottest summer for a number of years, Irish RNLI lifeboat crews were out helping those in trouble around the Irish coast and on inland waters at Lough Derg, Lough Ree and Lough Erne.
Baltimore Lifeboat station experienced a 50% increase in services this Summer making it the 4th busiest station in Ireland. Lifeboats were launched 24 times this Summer as opposed to 16 times in Summer 2012. (The all weather lifeboat had 15 services and inshore lifeboat 9 services)
The busiest lifeboat station in Ireland over the summer period (1 June to 31 August) was Dun Laoghaire which was called out 34 times. This was followed by Portrush in Antrim who launched 26 times and Crosshaven in Cork, whose volunteer crew were out 25 times over the summer.
Gareth Morrison, RNLI Divisional Operations Manager said: 'With more people travelling to the coast over the summer months RNLI volunteer lifeboat crews were busy keeping people safe. The commitment shown by our lifesavers that launched at all hours of the day and night in various conditions was outstanding.
The lifeboat open day takes place next Sunday 29th September from 2:30pm – 5:30pm. The public are most welcome to come and see the new station house and lifeboats at Bullpoint.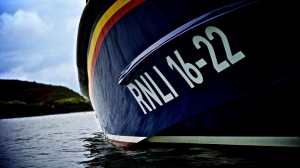 The all weather lifeboat was launched to carry out a medical evacuation from Cape Clear Island in West Cork this evening. The call for assistance was made at 10:04pm on Monday 23rd Sept when a 15 year old youth required urgent medical attention. The all weather lifeboat Alan Massey was launched within minutes under the command of Coxswain Kieran Cotter proceeding to North Harbour on Cape Clear Island in fresh weather conditions. The lifeboat collected the youth and in less than one hour had brought him to Baltimore to deliver him into the care of the ambulance service.
Coxswain Kieran Cotter remarked that 'given its speed and sea worthiness, the lifeboat is ideal for use in these emergencies'.
Next Sunday 29th Sept the crew of lifeboat are inviting the public to the station open day between 2:30pm and 5:30pm. The new state of the art building will be open to public view, as will the Atlantic 75 RIB inshore lifeboat and the Tamar class all weather lifeboat. All welcome – free of charge.
On board were Coxswain Kieran Cotter, Mechanic Cathal Cottrell, Jerry Smith, Pat Collins, Tadhg Collins, John Rochford and John O'Flynn.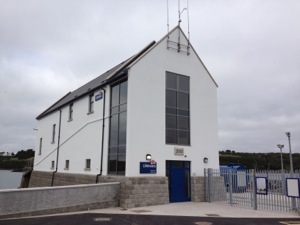 The crew of Baltimore Lifeboat Station invite you to an open day on Sunday 29th September from 2:30pm 5:30pm. Members of the public will have an opportunity to see the redeveloped station house at Bullpoint and the co-located lifeboats operating from there. The inshore lifeboat Atlantic 75 RIB Alice and Charles is housed inside the station house on a carriage and the Tamar class all weather lifeboat Alan Massey lies alongside in a newly excavated berth. Crew will be on hand to show people around the station house and the lifeboats as well as giving a first hand account of rescues at sea. Information on RNLI Sea Safety resources will also be made available. All welcome – free of charge.
7 Sept 2013


A 20 metre steel fishing vessel with two people on board called for assistance at 18:05 this evening whilst making passage from Castletownbere to Kinsale. The vessel was flooding due to problems with sea valves. The Baltimore RNLI all weather lifeboat responded within minutes proceeding to rendezvous with the stricken vessel 2 miles south of Brow Head near Crookhaven, Co Cork. The volunteer RNLI crew attempted to secure the safety of the Kinsale based fishing vessel by putting a salvage pump aboard to drain seawater from her bilges. The lifeboat then took her in tow while the crew of the fishing boat worked on her engines. 
The engines were restarted and the vessel began to make her own way for a time, but after the engines failed again the tow had to be restablished and the lifeboat continued to tow the fishing boat to Baltimore Harbour.

Baltimore RNLI  Coxswain Kieran Cotter said : 'It was fortunate that it was a fine night. We were able to transfer the salvage pump and establish the tow without a hitch'.
On board the Tamar class all weather lifeboat Alan Massey were Coxswain Kieran Cotter, Mechanic Cathal Cottrell, Ger Sheehy, Aidan Bushe, Ronnie Carthy, Eoin Ryan and Pat Collins
22 August 2013 The attempt by well known open water swimmer Steve Redmond to swim from Ireland to Wales ended in the early hours of Thursday morning on the advice of his support team, which included medical personnel, after he showed signs of hypothermia just hours into the swim. He [...]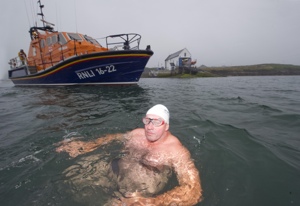 21 August 2013
Taking advantage of weather and tide Steve Redmond begins his greatest challenge yet earlier than expected this evening Wednesday 21st August. Steve will leave Carnsore Point at 10pm to swim across the Irish Sea in aid of the RNLI. He is expected to swim the 80km distance in approximately 35 hours arriving at St David's in Wales in the early hours of Friday morning. He will be accompanied by local RNLI boats at point of departure and arrival. Crew from Baltimore RNLI station are part of the support team that will accompany Steve on his epic swim. We wish him every success.
Steve swims with Baltimore RNLI
To donate to Steve's swim in aid of the RNLI please go to: www.mycharity.ie/event/irelandtowales2013/
For updates on his journey please log on to:
facebook.com/SteveRedmondSwims
or follow Steve's twitter account: @iswimcoldwater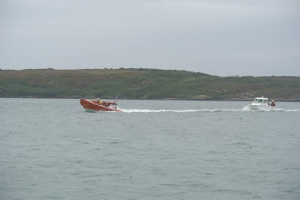 20 August 2013
The Baltimore RNLI inshore lifeboat went to the assistance of a motor cruiser whose engine failed near Horse Island in West Cork this afternoon. The alarm was raised at 15:05 and within minutes the lifeboat was underway. Helm John Kearney and his crew proceeded through the islands of Roaring Water Bay to rendezvous with the stricken vessel which had subsequently anchored between Horse Island and Castle Island.The 6.5m day cruiser whose engine had overheated had a party of 2 men, 2 women and 2 dogs on board at the time and had been on passage from Baltimore to Schull. The lifeboat crew passed a tow to the vessel and took her in tow returning her to her moorings in Baltimore Harbour.
Helm John Kearney commended them for staying calm, he said 'They did everything right, they were wearing life jackets and anchored promptly to secure their safety when her engines failed'.
Helm John Kearney, crew Ger O"Brien and Peter Losberg. Slip crew John O'Flynn, Colin Rochford and Declan Tiernan.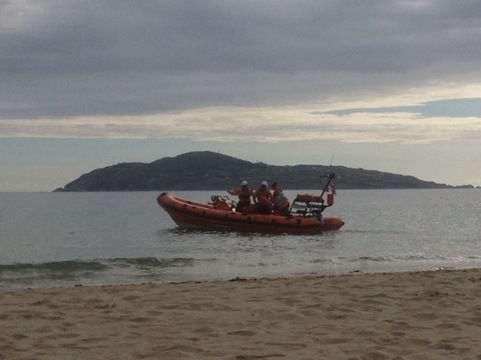 The inshore lifeboat carried out a medical evacuation on Wednesday 7 August from Silver Strand, Sherkin Island.