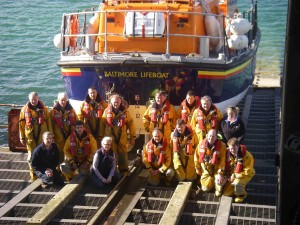 NEW BOAT – SAME COMMITMENT
It has been and continues to be an intense period of change at Baltimore Lifeboat station. We have welcomed the long anticipated Tamar class lifeboat Alan Massey to Baltimore and with some regrets said goodbye to the long serving Tyne class Hilda Jarrett. We have changed from a slip launched All Weather Lifeboat (ALB) to an afloat boat and we are soon to be temporarily evicted from our lifeboat station house as the builders move in. This will bring more changes as the ALB crew will operate from a container in the field beside the station using a boarding boat from the new breakwater. Our challenge is to continue to maintain the service expected of us through this difficult transition period. The disruption at Bullpoint will ultimately lead to a lifesaving facility second to none. Baltimore Lifeboat station is uniquely destined to have a state of the art Tamar ALB & Atlantic 85 ILB co-located in our village.
On February 10th 2012, the Alan Massey left RNLI Headquarters in Poole calling at lifeboat stations on the South coast of England before making an Irish landfall at Kilmore Quay. Onboard the lifeboat were Baltimore RNLI crewmembers, Coxswain Kieran Cotter, Mechanic Cathal Cottrell, Jerry Smith, Ronnie Carthy and Pat Collins along with RNLI Training Divisional Inspector Owen Medland and Deputy Divisional Engineer Michael Carmody. The final leg of the journey from Crosshaven to Baltimore Harbour was timed for a 14:15 arrival on 15th February 2012. The Hilda Jarrett and the ILB Bessie rendezvoused South of the Baltimore Beacon to accompany the new lifeboat on her triumphant arrival. Local ferry operators brought passengers out to escort the new lifeboat home. They were accompanied by a fleet of over 150 Optimist and Laser dinghy sailors.  Ferries, RIBS, and motorboats all sounded horns and cheered the new lifeboat into Baltimore.  Local school children from Rathmore NS lined the pier and sang Phil Coulters Lifeboat song to welcome in the new boat. Alan Massey was largely funded through a legacy from Mrs Dorothy May Massey from Watford in England, and has been named in memory of her late brother Alan, who it is understood had a love of the sea.
It is a proud day for Baltimore. RNLI Coxswain Kieran Cotter said, "We have been looking forward to this moment for a long time and we wish to acknowledge our volunteer lifeboat crew both past and present. The arrival of a new lifeboat to a station is an occasion of great pride and excitement. The Hilda Jarrett has served us well for over twenty years but as a Coxswain you look forward to receiving the newest lifeboat model with all the latest developments and technology onboard. We say goodbye to our Tyne class lifeboat, which will be returned to the relief fleet in Poole. We have so many memories onboard that old lifeboat, one of the highlights being the Rambler 100 rescue last August. However along with the successful rescues there have also been tragedies and most recently we witnessed this with the search for the missing crewmen from the Tit Bonhomme in Glandore Harbour. Our thoughts are with their families today." Baltimore Lifeboat has benefited from huge support from local families both past and present. It is appropriate that we acknowledge the service of recently deceased former crew, Billy Andy O'Driscoll and Donie O'Regan , who personified the volunteer ethos of Lifeboat crews.
The new boat's arrival in Baltimore was followed by weeks of intensive training for the crew with the support of the RNLI divisional staff. The boat was launching up to 3 times each day with different crews to develop competency with the new boat and equipment. It was with great pride and satisfaction that the boat and crew were declared ready for active service on Friday 9th of March and the Tamar Alan Massey became Baltimore Lifeboat.
During the commissioning period we made many calls to the other coastal communities in our area to display Alan Massey and more importantly to acknowledge support for Baltimore Lifeboat. We visited Sherkin, Cape Clear Islands, Cunnamore, Schull, Glandore, Union Hall, Crookhaven, Courtmacsherry, Castletownshend and Castletownbere as well as making an overnight passage to Valentia. Though based in Baltimore and crewed here the Baltimore Lifeboats support all seafaring and island communities from Galley Head to the Mizen.
Less than a fortnight after commissioning Alan Massey was called into service when the pagers sounded at 21:14 on 22/03/2012 tasking the crew to a fishing trawler with a fouled propellor, 19 miles South of Baltimore. The crew aboard Alan Massey were coxswain Kieran Cotter, mechanic Cathal Cottrell and crew Pat Collins, Mícheál Cottrell, Brian McSweeney, Don O Donovan and John O Flynn. The fishing vessel managed to get their propellor freed and the lifeboat, which was half way to the position was returned to station. It is possible to follow lifeboat shouts on Twitter @rnlibaltimore, on Facebook and on our website www.baltimorelifeboat.ie.
The last slip launch of an ALB at Bull Point marked the end of an era for the station. The Hilda Jarrett slid down into the waters of Church Strand at 3pm on Sunday 18th March for the last time. It was a nostalgic moment watched by a large crowd. Slip crew who have tirelessly operated winches at all times of the day and night can relax now until their 'reberth' as slip crew for an Atlantic 85.
Hilda Jarrett remained on moorings in the Harbour until the following Tuesday 20th March, when she sailed on passage to Conwy in Wales. There she is being prepared to enter the RNLI fleet initially at the Welsh Station of Moelfre. As she made her passage East from Baltimore she was no longer Baltimore Lifeboat, just lifeboat 47-024. We trust she will save many more lives and continue to bring home safely those who serve on her.