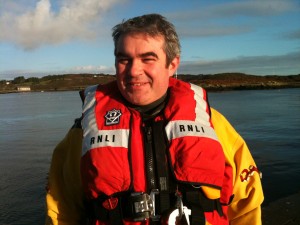 Further details have emerged on the dramatic events of last night (Saturday 4 August 2012) and early this morning which saw two young kayakers rescued after they became trapped in Mill Cave, West Cork.  The rescue involved a Baltimore RNLI crewmember swimming into a narrow cave in challenging sea conditions and bringing the two young kayakers to safety.
 The two teenagers, a boy and a girl, had been reported missing from Rosscarbery on Saturday evening after they had not returned home at their expected time.  A huge search was mounted involving Balimore RNLI and Irish Coast Guard Units.
At 23:00, while the search was ongoing, Baltimore RNLI lifeboat Helm John Kearney heard what he thought was a faint whistle coming from Pouldav cave, known locally for its blow hole.  The lifeboat crew were aboard the RNLI Atlantic 75 inshore lifeboat Bessie but could not enter the cave due to the dangerous surf conditions.  The lifeboat crew then launched a small boarding boat from their all weather lifeboat Alan Massey with volunteer crewmembers Ger Sheehy and Sean McCarthy. This smaller boat could only advance within 50 metres of the cave summit due to the area being awash with surf and again too dangerous. RNLI crewmember John Kearney, an experienced sea swimmer, went into the water and swam the last 50 metres to reach the two kayakers. The boy and girl were clinging to a rock surface while waves broke around them.
Both the young people were cold and tired. John carried each of them in turn over his shoulder in chest high water to the boarding boat. Considerable skill was required of Ger Sheehy to keep the small boat steady so that they could be retrieved with the assistance of Sean McCarthy. The girl and boy were then taken to the inshore lifeboat, where they were given a medical assessment and deemed to be fit to return to shore. The inshore lifeboat brought them directly to their families at Mill Cove slip, where they were assessed by a Doctor.  The entire incident took place in the hours of darkness
Commenting on the rescue Baltimore RNLI Helm John Kearney said, "the water in the cave was churning like a washing machine. However I was convinced that I had heard a sound and was concerned for the safety of the kayakers.  I will never forget the relief I felt when I saw the two young people alive and safe inside the cave.  They were very brave and did exactly what they needed to do to get to safety.  We are very lucky to have two lifeboats in Baltimore, and by using all of our available resources and training we were able to bring these young people to safety."