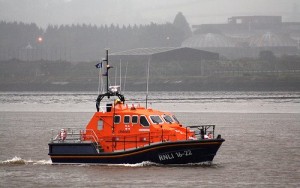 The Tamar class all weather lifeboat Alan Massey arrived in Baltimore on 15th February 2012 to replace the Tyne class Hilda Jarrett.
Alan Massey 16-22
ON1302 Tamar class all-weather lifeboat
| | |
| --- | --- |
| Length: 16.3m | Range: 250 nautical miles |
| Beam: 5.3 | Crew: 7 |
| Displacement: 32 tonnes | Speed: 25 knots |
| Construction: Fibre reinforced plastic (FRP) |  Introduced: 2005 |
The Tamar class was introduced in 2005 and commissioned in Baltimore in March 2012. Tamar represents the culmination of many years of hard work by her combined design team. The hull is composite (glass and epoxy resin – with a foam core sandwich structure above the water).  Although lightweight, it is incredibly strong, with one square metre able to withstand a force of 68 tonnes.  It is built in 2 halves, which are then stuck together, and her deck and wheelhouse are a single moulding, which is made upside down and then flipped over and stuck on top of the hull – just like putting the lid on the box.
Tamar's power comes from her 2 x Caterpillar C18 marine diesel engines.  Each of these engines generates 1,000 hp (that's a bit more than a formula 1 racing car), and driving her 2 propellers they give Tamar a top speed of 25 knots.  They also provide her with a towing capability of up to 7 tonnes, which means that she can tow most boats or even hold a coaster off the shore while other help arrives.
The top speed of 25 knots can be maintained for up to 10 hours, giving her a range of 250 miles and to achieve this she carries 1000 gallons of fuel.
The features and benefits of the new Tamar class Alan Massey, when compared to the older Tyne class Hilda Jarrett, can be summarised as follows:
It is bigger: 16 metres as opposed to 14 metres for the Tyne.
It is faster: travelling at a top speed of 25 knots, rather than 17 knots.
It provides more safety features: research shows that some accidents could be prevented if crew remain sitting, rather than moving around the lifeboat, during rough weather. Part of the reason for installing the computerised 'Systems and Information Management System' (SIMS) is to allow the crew to control many of the on-board functions without leaving their seats.
It has improved ergonomics: a faster speed means greater physical loadings on the crew as the lifeboat crashes through waves; the new seat design will significantly reduce the impact of these loadings on the crew.
It is better equipped: the Tamar class carries a powered 'Y boat', which is a larger and more powerful inflatable than the manually propelled 'X boat' carried on board a Tyne. The Y-boat is stored behind a transom door which allows immediate deployment whereas the X-boat was stowed below in a deflated state.
One of the biggest risks for crew members aboard a lifeboat in rough seas is being injured while moving around. A bespoke RNLI solution known as Systems and Information Management System (SIMS) addresses this using the latest in computer technology. SIMS means that many on-board controls for operating and controlling lifeboats can be managed remotely and the crew can remain in their seats for longer. Using the system also allows better task sharing between crew members as various functions can be monitored and controlled from virtually any location on the boat. SIMS is built using solid-state technology and incorporates a chain of back-up systems. In the unlikely event that all back-ups should fail, the lifeboat can still be operated using conventional systems.
The Tamar has a new design of crew workstation with seats that can move up and down 20 centimetres (7.9 in) as the boat passes through rough seas at high speed, and a networked computerised Systems and Information Management System (SIMS) which allows the crew to monitor and control the boat entirely from within the wheelhouse. The coxswain and helmsman have seat-mounted throttles, trackerball and joystick controls of the rudder. Alternatively the boat may be monitored and control by two controls on the bridge: Dual throttle controls and joystick on the left; dual throttle, wheel and control-screen on the right. All aspects of the vessel may also be controlled from this position
The lifeboat is completely water-tight allowing it to self-right with up to 60 people on board. The boat has the potential to carry a maximum of 120 passengers on board, but without self righting capability. The Survivors Space has room for 10 sitting and 8 standing. The Survivors Space is accessed either through the Wheelhouse or the fore deck Emergency Escape Hatch.
The Tamar also has a small inflatable outboard powered boat (Y-class), which allows the crew to perform rescues in very shallow areas, close to rocks or caves and transfer personnel. This is stowed under the deck at the stern of the boat and can be ready to go in less than 2 minutes.
The Alan Massey has been primarily funded from the legacy of Miss Dorothy May Massey of Watford in Hertfordshire. Miss Massey died in December 2003 and bequeathed the whole of her residuary estate to the RNLI but requested that her legacy be used to purchase a lifeboat to be named Alan Massey in memory of her brother who it is believed had an interest in sailing. It has therefore been agreed that the lifeboat will be named "RNLB Alan Massey".
Error: the communication with Picasa Web Albums didn't go as expected. Here's what Picasa Web Albums said:
404.
The requested URL /data/feed/api/user/baltimorelifeboat/album/AlanMasseyAllWeatherLifeboat?kind=photo was not found on this server.