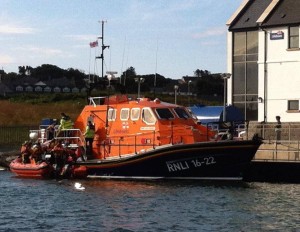 The body of a man has been recovered from the water today 14 August. The man was found North of Sherkin Island by the inshore lifeboat and taken to the station at Bullpoint where he was pronounced dead by RNLI Medical Advisor Dr Don Creagh. Sergeant Tony McCarthy and Garda Mairtín Ashe attended the scene and supervised removal to CUH for post mortem. Helm Youen Jacob with crew John Kearney and Ryan O'Mahony had been searching since 5:30 am this morning when they spotted a life jacket at 8:15 approx. Earlier they had given medical assistance to the two sailors who had made it to the safety of Castle Island.
This is a sad end to a sailing trip which had set out from Schull yesterday afternoon. The alarm was raised when the19ft open Drascomb Lugger failed to return at 7pm last night.
Both the ALB (under Coxswain Kieran Cotter, Mechanic Brian McSweeney and crew John O'Flynn, Jerry Smith, Eoin Ryan, Don O'Donovan and Diarmuid Collins) and ILB (Helm Kieran Collins, Micheál Cottrell and Tadhg Collins) searched until after midnight when the search was stood down by the Coastguard.
The search resumed again at 5:30 today with both the ALB (Coxswain Pat Collins, Mechanic Sean McCarthy, Shane McSweeney, Diarmuid Collins, John O'Flynn,Tadhg Collins) and ILB (Helm Youen Jacob, John Kearney and Ryan O'Mahony) searching Roaring Water Bay.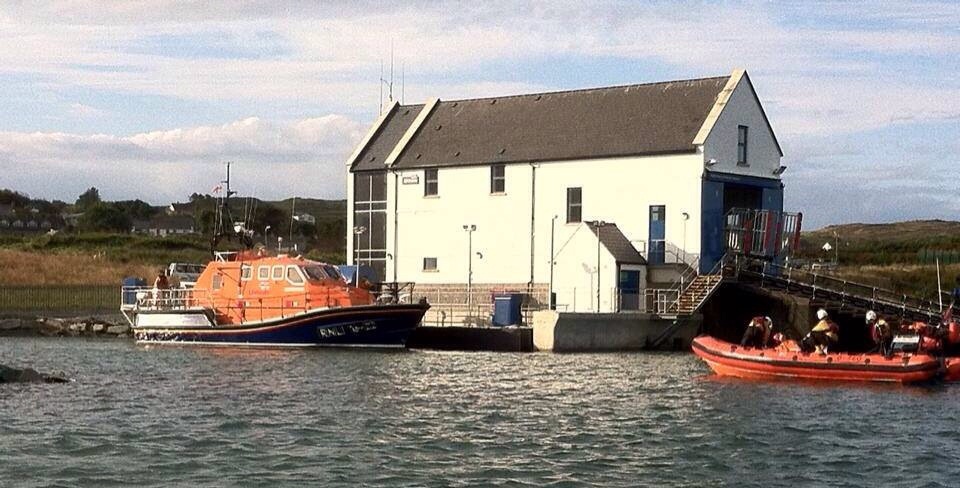 Photo: Richard O'Flynn