RNLI Baltimore Lifeboat Station

Happy New Year from all at Baltimore RNLI Lifeboat Station
On the 3rd of October we welcomed two guests John and Sheila Smith to our newly refurbished boathouse at Bull Point, Baltimore. John and Sheila were visiting the station as representatives of benefactors Alec Christopher and Elizabeth Olive Thompson, who bequested money to the RNLI, which was spent on our Station Boathouse redevelopment.
On their arrival John and Sheila were greeted by station management, members of our station fundraising committee, and several crew from both of the Lifeboats based at our station. After lunch, John and Shiela were treated to a tour of the facilities, and of both the inshore and all-weather lifeboats. They greatly impressed the crew and staff with their keen interest and enthusiasm for all that they saw at the station.
At the end of the tour John and Sheila were presented with a framed photo, taken by lifeboat helmsman Youen Jacob, of the newly refurbished boathouse with both lifeboats in their respective holding areas, as a momento of their visit and also as thank you from  Baltimore Lifeboat Station.
Thank you John and Sheila for your visit, but also a big thank you to the late Alec Christopher and Elizabeth Olive Thompson for the legacy that they left behind. A legacy that has put a state of the art facility in place in Baltimore, that will undoubtdly aid in the rescue of many.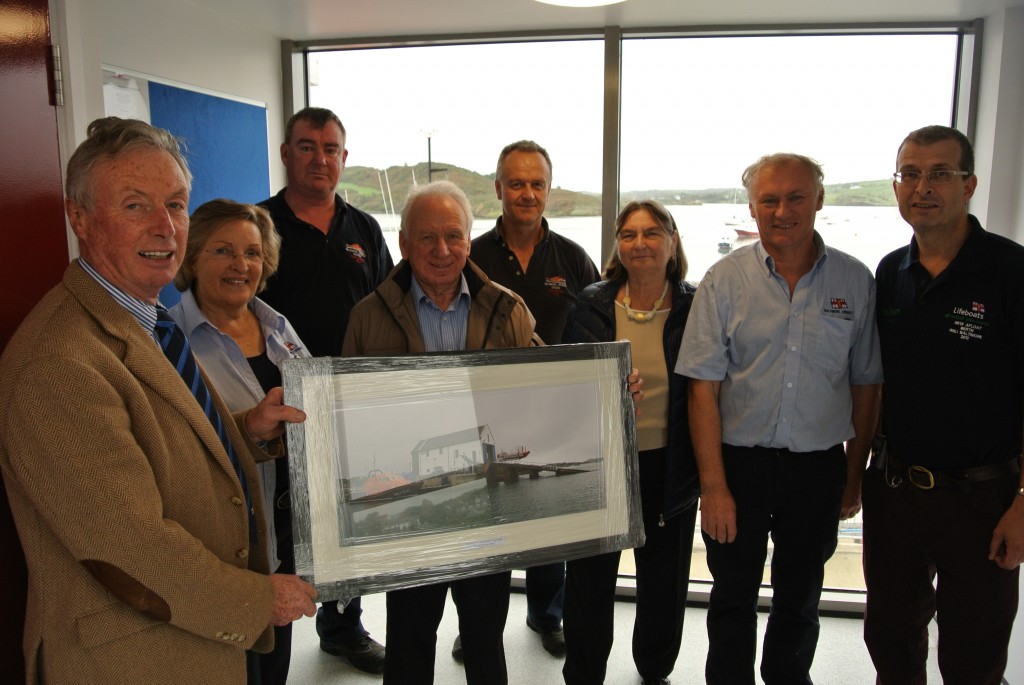 Congratulations to Brigit Cotter who was presented with a Gold Badge from the RNLI at their annual awards ceremony at the Barbican theatre in London. The award was presented by HRH the Duke of Kent, in recognition of her voluntary work for the RNLI, and in particular Baltimore Lifeboat Station. [...]
With south easterly winds blowing force 7, gusting 8, Baltimore Inshore Lifeboat was launched to assist boats in Baltimore Harbour. A yacht that broke clear of her mooring was driven across the harbour by the high winds and steep seas, until she went aground on rocks at Sherkin Island. Several [...]
This morning at 7am Beaumaris lifeboat in Wales launched for a very important tasking. The job awaiting them was to carry the Olympic flame acros the Menai Strait to Menai Bridge. A job well done by all, the flame was landed safely and still lighting.
At 1957hrs on Monday 21st May Baltimore Lifeboat crew were paged to launch to a yacht in difficulties off Mizen Head. By 2012hrs the Lifeboat 'Alan Massey' under coxswain Kieran Cotter was powering her way towards the casualty, also aboard were mechanic Cathal Cottrell, Pat Collins, Mícheál Cottrell, Ronnie Carthy, [...]