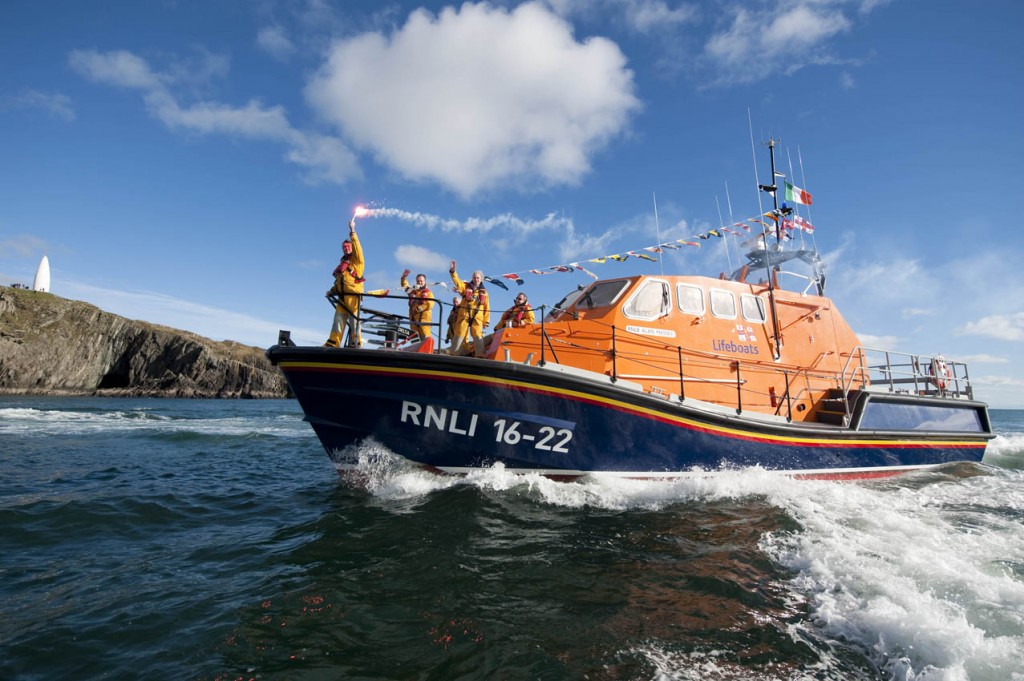 Cathal lights a flare to celebrate the arrival of the Tamar
15 February 2012
Baltimore RNLI's new Tamar class lifeboat Alan Massey arrived home today to a huge welcome.  After crew training and commissioning, the Alan Massey will replace the Tyne class Hilda Jarrett which has served Baltimore lifeboat crews since 1988.  The new lifeboat left RNLI Headquarters in Poole last Saturday calling at a number of lifeboat stations along the way before undertaking the final leg of the journey this morning from Crosshaven to Baltimore Harbour.
Onboard the lifeboat were Baltimore RNLI crewmembers, Coxswain Kieran Cotter, mechanic Cathal Cottrell, Jerry Smith, Ronnie Carthy and Pat Collins along with RNLI Training Divisional Inspector Owen Medland and Deputy Divisional Engineer Michael Carmody. The Hilda Jarret and the inshore lifeboat Bessie rendezvoused South of the Baltimore Beacon to accompany the new lifeboat on her triumphant arrival. Local ferry operators brought passengers out to escort the new lifeboat home. They were accompanied by a fleet of over 150 Optimist and Laser dinghy junior sailors, RIBS and motorboats, cheering and sounding horns.  Local school children from Rathmore NS lined the pier and sang to welcome the new boat as
The new lifeboat, which is named Alan Massey (ON 1302) was largely funded through a legacy from Mrs Dorothy May Massey from Watford in England, and has been named in memory of her late brother Alan, who it is understood had a love of the sea.
It is a proud day for Baltimore. RNLI Coxswain Kieran Cotter said, "We have been looking forward to this moment for a long time and we wish to acknowledge our volunteer lifeboat crew both past and present. The arrival of a new lifeboat to a station is an occasion of great pride and excitement. The Hilda Jarrett has served us well for over twenty years but as a Coxswain you look forward to receiving the newest lifeboat model with all the latest developments and technology onboard. We will spend the next month or so training all the volunteer lifeboat crew on her before we say goodbye to our Tyne class lifeboat, which will be returned to the relief fleet in Poole. We have so many memories onboard that old lifeboat, one of the highlights being the Rambler 100 rescue last August. However along with the successful rescues there have also been tragedies and most recently we witnessed this with the search for the missing crewmen from the Tit Bonhomme in Glandore Harbour. Our thoughts are with their families today."
The new Tamar class lifeboat is 16.3 metres in length with a maximum speed of 25 knots compared to the 14.3 metres of Baltimore RNLI's current Tyne class lifeboat which has a maximum speed of 18 knots. The lifeboat is self-righting in the event of a capsize and is fitted with an integrated electronics systems and information management system, which allows the lifeboat crew to monitor, operate and control many of the boats systems from shock mitigating seats.
Sitting outside in the square afterwards good humored supporters exchanged stories and enjoyed a fabulous evening blessed by sunshine and clear skies. This bright and unseasonally clement February day couldn't have been better for a homecoming and augers well for the future of Alan Massey at Baltimore lifeboat station.