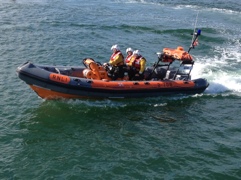 The inshore lifeboat was again pressed into service this afternoon when a 20ft yacht with 5 persons on board went aground on a falling tide.
The alarm was raised at 15:07. Helm Kieran Collins with crew Jason Pavry and Diarmuid Collins proceeded to the location near Seal Rock, Heir Island in West Cork.
A passing RIB had taken the family of 4 and a baby girl onboard whilst the lifeboat crew attempted to dislodge the yacht. They rocked it on its perch allowing enough leverage for the powerful twin engined lifeboat to pull her clear.
Unsure of its mechanical fitness, The lifeboat towed the yacht to moorings in the Cove, Baltimore.
They returned to Baltimore Harbour to loud cheering as Katy Taylor had just won Olympic Gold.
This has been a busy week for the Inshore Lifeboat a twin engined Atlantic 75 RIB. She has provided assistance on 4 separate occasions this week including the rescue of two teenagers from a cave in Millcove.