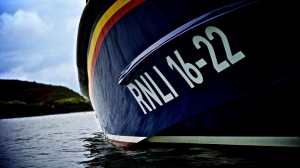 The all weather lifeboat was launched to carry out a medical evacuation from Cape Clear Island in West Cork this evening. The call for assistance was made at 10:04pm on Monday 23rd Sept when a 15 year old youth required urgent medical attention. The all weather lifeboat Alan Massey was launched within minutes under the command of Coxswain Kieran Cotter proceeding to North Harbour on Cape Clear Island in fresh weather conditions. The lifeboat collected the youth and in less than one hour had brought him to Baltimore to deliver him into the care of the ambulance service.
Coxswain Kieran Cotter remarked that 'given its speed and sea worthiness, the lifeboat is ideal for use in these emergencies'.
Next Sunday 29th Sept the crew of lifeboat are inviting the public to the station open day between 2:30pm and 5:30pm. The new state of the art building will be open to public view, as will the Atlantic 75 RIB inshore lifeboat and the Tamar class all weather lifeboat. All welcome – free of charge.
On board were Coxswain Kieran Cotter, Mechanic Cathal Cottrell, Jerry Smith, Pat Collins, Tadhg Collins, John Rochford and John O'Flynn.