2012 Station City of Bradford V, an Atlantic 75 RIB was placed on station 09/10/2012 until 15/09/2013
2008 Station Lifeboat Bessie, an Atlantic 75 RIB was placed on station 09/04/2008 until 09/10/2012
1988 Station lifeboat Hilda Jarret, a Tyne class, was placed on station 17/02/88 until 18/03/2012
1984 Station lifeboat ON1015 the Charles Henry, an Oakley class, was on station from 04/07/84 until 05/04/87
1978 Station lifeboat ON955 The Robert, a Watson class, was on station from 09/05/78 until 18/07/84
1950 Station lifeboat ON854 Sarah Tilson, a Watson class, was on station from 06/05/50 until 09/05/78
1919 Station lifeboat ON649 The Shamrock (also known as Duke of Connaught), a Watson class, was on station from 17/08/19 until 11/10/49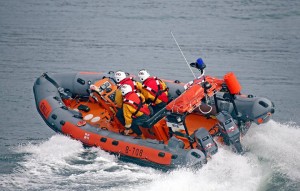 Atlantic 75 inshore lifeboat
The Atlantic (B class) lifeboats are rigid inflatables with twin outboard motors and can operate in conditions up to near gale Force 7. They were first developed at Atlantic College in Wales and then by the RNLI. They provide a rapid response to inshore emergencies. If the boat capsizes a crew member activates a gas bottle to inflate the righting bag and the boat turns upright in a few seconds.
| | |
| --- | --- |
| Length: 7.3metres | Speed 32 knots |
| Endurance: 3hours | Launch Method: Trolley |
| Crew: 3 | First introduced: 1993 |

Error: the communication with Picasa Web Albums didn't go as expected. Here's what Picasa Web Albums said:
404.
The requested URL /data/feed/api/user/baltimorelifeboat/album/BessieInshoreLifeboat?kind=photo was not found on this server.
Hilda Jarrett 47-024

ON1137 Tyne class all-weather lifeboat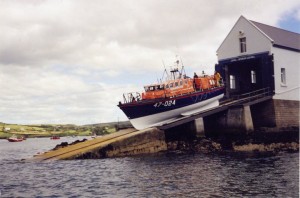 The Tyne class was Introduced by the RNLI in 1982. When the Hilda Jarret was commissioned in Baltimore in 1988, she had twice the power of her predecessor, Charles Henry, boasting a top speed of 18 knots. Built at the Isle of Wight on the South Coast of England, the well-equipped 47ft Tyne class lifeboat cost £564,000 at the time. Her first callout was on the 21st May 1988.  In her lifetime she has launched 356 times and rescued 346 people.
The Hilda Jarrett is equipped with twin 425 hp engines and fitted with a range of modern search and rescue aids. She carries 510 gallons of diesel plus 102 gallons in reserve. This will fuel her for about twelve hours at a speed of 18 knots.
The Hilda Jarrett was the fifth new lifeboat to come into Baltimore, since The Shamrock arrived in 1919 at a cost of €6,013.
The Tyne class all-weather lifeboats were the first 'fast' slipway lifeboat. Features include low profile appearance of wheelhouse to fit boathouses, and separate cabin aft of upper steering position. It has shallow conventional sheerline and flared bow above the waterline, with propellers protected by substantial bilge keels. Self-righting, she has a steel hull with an aluminium superstructure.
| | |
| --- | --- |
| Length: 14.3m (47ft) | Range: 240 nautical miles |
| Beam: 4.48m(14ft 8in) | Crew: 6 |
| Displacement: 25.5 to 26.5 tonnes | Speed: 17.6 knots |
| Construction: Steel | |
KPICASA_GALLERY(HildaJarretTyneClassAllWeatherLifeboat)